2023 Nissan Ariya Model Review
Has the new Nissan Ariya caught your eye? Do you feel drawn to its sleek design and smooth handling?
Here at Exton Nissan, we prioritize our community by caring for their automobile needs and wants. Whether you live in Parkesburg, Devon, Wayne, Prussia or other nearby counties, our team members are here to help you find the best deals and discounts. We only carry new, used and pre-owned certified vehicles that are durable and long-lasting, so you never have to worry about high-quality options.
Read on for more info on our 2023 Nissan Ariya model review near Exton, PA or explore our inventory in person today!
Advantages Of The Ariya
Interested in learning more about the benefits of driving a Nissan Ariya? Between its torque split system, dual-front electric motor configuration and all-wheel drive option- this model is more than capable of top-tier performances on city roads and highways. The Ariya is stable and safe for large families but also has a sporty feel. When it comes to gas mileage and fuel economy, this model is incredibly efficient thanks to its higher-end electrical components. For more stats on the Ariya, feel free to connect with one of our sales reps.
Incredible Interior Design
Wondering how the 2023 Nissan Ariya's interior compares with its other advantages? The Ariya's inner design is sleek, minimal and futuristic feeling with smooth dashboards and stylish upholstery. With plenty of space to spread out, this model is both comfy and modern thanks to its zero-gravity seats and satisfactory room for one's feet. No matter the distance you're traveling, whether you're driving for a day trip, work or a vacation excursion- the Ariya is always accommodating and enjoyable. Don't hesitate to chat with one of our welcoming team members if you'd like to check out the interior for yourself!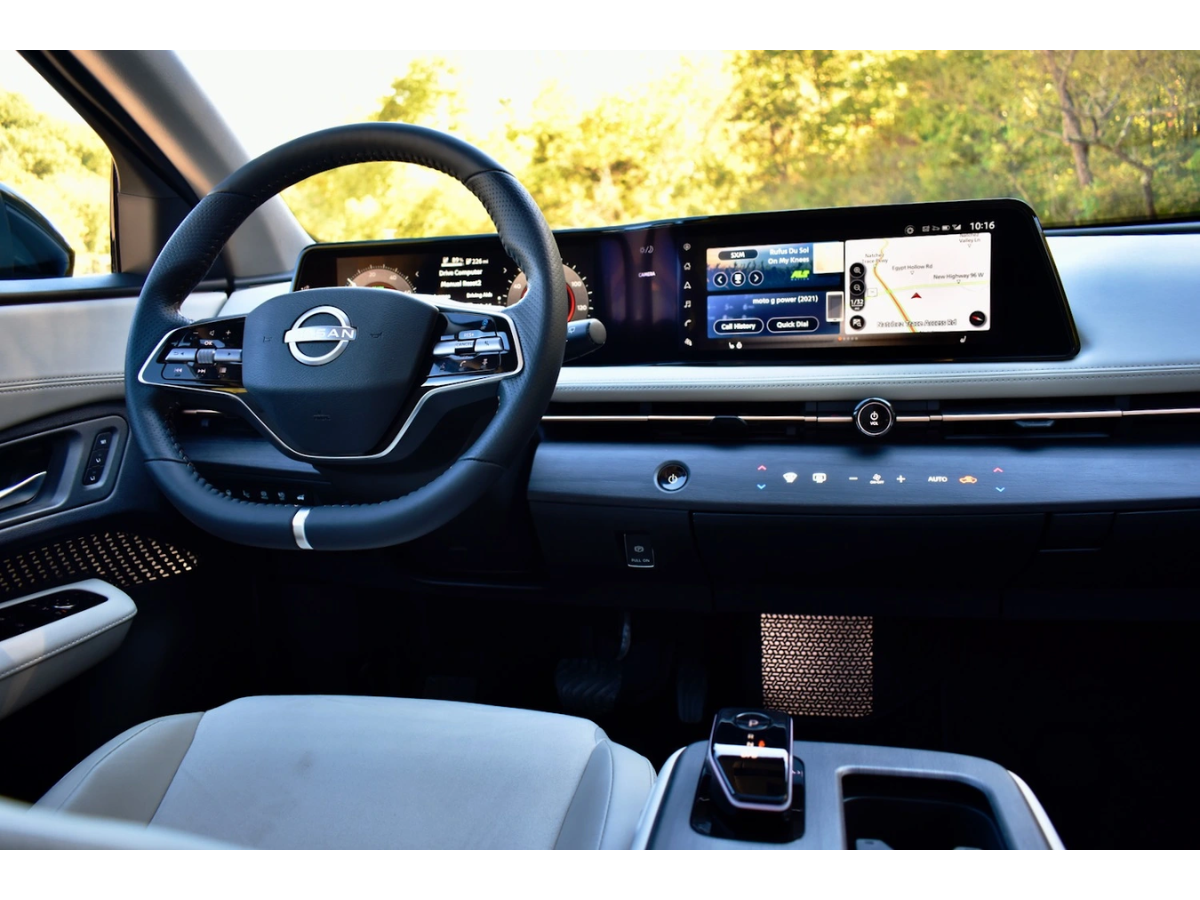 The Ariya Nissan's Stylish Trims
When it comes to trims, the 2023 Ariya has plenty of top-notch options to choose from. Each and every trim comes with plenty of safety features, such as Nissan Safety Shield 360, driver assistance systems, ProPilot Park and Propilot Assist. With the VENTURE+ trim, drivers get up to 300 miles, while in the EVOLVE+ and PREMIERE trims, the numbers round out closer to 280 miles. Though the PLATINUM+ has a lower mileage range- this trim makes up for it in acceleration speed, trumping the other models with 4.8 seconds versus 7.2.
Though each Ariya trim maintains its compact SUV feel, this model in general is incredibly complex and sophisticated. If you're looking for a vehicle with good suspension, little to no wind or road noise and plenty of stability- this car is for you.
Contact Exton Nissan for a Test Drive Today!
Are you ready to drive off into the sunset behind the wheel of a new Nissan Ariya? Come on over to Exton Nissan as soon as you can and check out our stock! Besides our selection of new, used and pre-owned cars, we can offer you financial and mechanic assistance, as well as professional parts replacements.
Feel free to contact us through our website by scheduling a test drive or give us a call today!